This post is the last post of a giveaway at Tamara's blog.
Please click on her tag below to read more!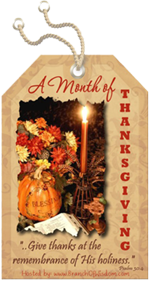 As I reflect back on these days of giving thanks, I see just a drop in an ocean of things, people, and events for which I have thanked the Lord. Today, instead of naming specific things for which I thank the Lord, I want to share a few quotes on thanksgiving which our pastor shared with us on Sunday as part of his study on Proverbs 14.
Thanksgiving is acknowledging our dependence on the Lord.
Thanksgiving, after all, is a word of action.
If you are not content with what you have,
you would not be satisfied if it were doubled.
God is glorified, not by our groans, but by our thanksgivings.
And my personal favorite:
When asked if my cup is half-full or half-empty, my response is that I am thankful I have a cup.
Thank you, Tamara, for hosting this incredible meme this month. I have enjoyed participating with all the wonderful ladies, "meeting" you all, visiting your blogs, and being encouraged. THANK YOU!
From the rising of the sun to its setting
The name of the LORD is to be praised.
Back to life,
Christine
visit my photography blog!
captured by Christine Anne