This post is part of a giveaway at Tamara's blog.
Please click on her tag below to find out more!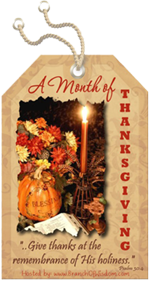 Today I thank the Lord for the
dinner hour
, that blessed time of gathering around the table for physical and spiritual nourishment, of fellowship together as a family, of prayer and Bible study as brothers and sister (yep, just one "sister") in the Lord.
O magnify the LORD with me,
And let us exalt His name together.
Psalm 34:3 nasb (emphasis mine)
Thank You, Lord, for our
dinner hour
.
Please visit
Tamara's blog
to find out more about Month of Thanksgiving,
to be encouraged by others' blessings,
and to participate!
Back to life,
Christine
visit my photography blog!
captured by Christine Anne