This post is part of a giveaway at Tamara's blog.
Please click on her tag below to find out more!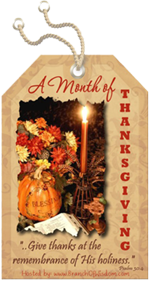 Today I thank the Lord for
Joseph
. Just his very presence in my arms as a newborn was a testimony that God loved me. According to the Word, Joseph was a reward! God was good!
As he grew, we began to walk the confusing, blessed road of autism. But Joseph was still a reward. And God was still good.
God has kept our sweet, no-nonsense son to even today. And Joseph is still a reward. And God is still good.
Give me your heart, my son,
And let your eyes delight in my ways.
Thank You, Lord, for
Joseph
.
Please visit
Tamara's blog
to find out more about Month of Thanksgiving,
to be encouraged by others' blessings,
and to participate!
Back to life,
Christine
visit my photography blog!
captured by Christine Anne