This post is part of a giveaway at Tamara's blog.
Please click on her tag below to find out more!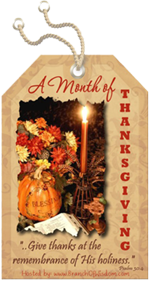 Tamara has asked us to share Thanksgiving traditions and memories, which I will do today. So today, I thank the LORD for Thanksgivings past, the wonderful traditions shared, and memories stored up.
Above is my mom's and dad's dining room, set with almost everything but the turkey. My sister-in-law is placing her dish on the table--she is an awesome cook! And my mom is simply amazing: she makes a turkey with homemade stuffing in the bird, so delicious! Plus, everything is from scratch: the cranberry sauce, steamed broccoli (everyone's favorite vegetable), several types of rolls and breads... I make sweet potatoes, lemon-garlic mashed potatoes, and one or two types of squash.
For dessert, my mom and I contribute several pies. She usually makes two or three, and I usually make a couple. We have French apple or cranberry-apple, pumpkin (I make a yummy pumpkin-pecan pie), lemon custard (a new favorite). There are only three ladies in our little 11-person clan, but we all love to cook!
The day is spent in food preparation, amidst laughter, conversation, and the guys sneaking in to try to snitch food samples. Our young men may pull out chess or Settlers of Catan or another game. We usually share prayer and eat around 2pm, so that we can relax afterward with cleanup, and more fellowship and laughter. We also talk about Christmas plans--in whose home will we have Christmas this year? (There are four to choose from!) What about gifts? Gift ideas?
Around 6pm, the guys are the ones who start tossing out hints about dessert! Out come the pies, whipped cream, coffee or tea...
Thanksgiving is a day of family togetherness, conversation, and laughter. Since we're a mixed bunch, specifically Christian activities (reading the Word, etc.) are not done. But we love our family and this very special day that we share together.
Let us come before His presence with thanksgiving,
Let us shout joyfully to Him with psalms.
For the LORD is a great God
And a great King above all gods.
Thank You, Lord, for Thanksgiving Day, and the opportunity to give thanks to You every day.
Please visit
Tamara's blog
to find out more about Month of Thanksgiving,
to be encouraged by others' blessings,
and to participate!
Back to life,
Christine
visit my photography blog!
captured by Christine Anne