This post is part of a giveaway at Tamara's blog.
Please click on her tag below to find out more!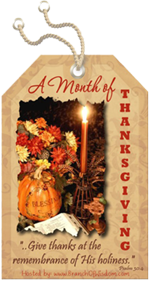 This is my first post in Tamara's
Month of Thanksgiving
. First and foremost, I am thankful for the gift of Jesus, whom God sent for me. The fact that He chose me as His child is awesome. My heart overflows with thanks to Him.
...giving thanks to the Father,
who has qualified us to share
in the inheritance of the saints in Light.
For He rescued us from the domain of darkness,
and transferred us to the kingdom of His beloved Son,
in whom we have redemption, the forgiveness of sins.
Back to life,
Christine
visit my photography blog!
captured by Christine Anne